Thanks for joining me over here… let me share a little more...

Last fall I created a a series of 'themed' topics under the larger umbrella called 'CREATING YOUR LIFE'. I wanted to explore in the Roundtables all the different aspects of what it means for us to create a life we love, shedding old ideas and patterns that no longer serve us.

Each four-week session takes one topic, and we unpack it over the two hours. It's very interactive but our work allows you to look at your life from a different perspective as well as share insights with other like-minded women. Each woman brings her own experience to the table and we all benefit from her honesty and wisdom.

This eighth session (my last until the fall) is all about trusting ourselves.

TRUSTING MYSELF starts June 9th. Each week the questions and exercises will affirm how wonderfully trustworthy you actually are—making you want to reach even higher.

I look forward to sharing with you.

Wherever you are in your life right now, I send you love.

Nancy




Series EIGHT: TRUSTING MYSELF (4 x 2 hour sessions)
1. TRUSTING MY HEAD
WEDNESDAY Jun 9
1-3pm or 7-9pm ET
How do we discern the accuracy of what our mind is telling us versus what our intuition says or our heart? This session looks at our mind: how we think, how we reason, and our logic. Can we trust our head?
2. TRUSTING MY HEART
WEDNESDAY Jun 16
1-3pm or 7-9pm ET
What is the head-heart connection? Can we trust our intuitions? Can we connect our brain and our heart so that they are in perfect sync?
3. TRUSTING MY GUT
WEDNESDAY JUN 23
1-3pm or 7-9pm ET
Our 'knowingness' is alive and well in our gut. Do you listen to your gut? How do we connect our gut to our heart and brain in a way that brings consciousness and clarity?
4. TRUSTING MY LIFE
WEDNESDAY JUN 30
1-3pm or 7-9pm ET
Do you trust life? In this session we put all the work we've done - together. We will be awed at the synchronicities and miracles life brings once we are open and willing to see.
---
Subscribe to CREATING YOUR LIFE
Series EIGHT: TRUSTING MYSELF
You can purchase the full 4 x 2hr package or single sessions.
---
TRUSTING MY HEAD
WEDNESDAY, JUN 9
1-3pm OR 7-9pm
---
TRUSTING MY HEART
WEDNESDAY, JUN 16
1-3pm OR 7-9pm
---
TRUSTING MY GUT
WEDNESDAY, JUN 23
1-3pm OR 7-9pm
---
TRUSTING MY LIFE
WEDNESDAY, JUN 30
1-3pm OR 7-9pm
---
COST:
---
Series eight package
$140 +tax*
---
Single Session
$40 +tax*
---
*If you are Canadian, tax depends on your province. Outside Canada - no tax.
MORE ON THE SERIES
It is ideal to sign up for the whole series, but you are more than welcome to join any one session at a time. Some women sign up with a friend so they can continue the 'juicy' discussions. Throughout this pandemic, women from all over the world have created rich dynamic conversations every time – and are a powerful support for each other in this journey.
Once you sign up, you will be emailed a beautifully designed set of pages for your Creating My Life workbook. These are the questions for each week's session along with many of the quotes I use, plus postcards. You can download these pages to create your own binder.
Each session offers a unique opportunity to examine your own life. Being part of a community of thinking women who are heart-centered, allows you to be profoundly 'seen and heard' in ways that will surprise you. And just as their vulnerability and wisdom will support and encourage you, so your experiences and wisdom will bring them new perspectives.
Feel free to drop our own Susan Collins a line at
info@think8women.com
-- she will answer any and all questions to make sure you have everything you need to sign up.
WOMEN'S REFLECTIONS ON THE ROUNDTABLES:
"I could have gone on all night! You blasted through every concept of a woman I had every known in one 'Nancy swoop'!!""
I find it very insightful to go deep into each topic, with questions that make us think differently, challenge the status quo and enable us to share our collective wisdom—exploring issues women are facing on the road to success
"For me, the roundtable represented an opportunity to let go of some baggage that is no longer serving me. In the end, it highlighted many aspects of my relationship with my voice, the fact that I'm holding on to a lot that I no longer benefit from, and that, more than anything— it's time to use my voice authentically, genuinely, and joyfully."
"These sessions help me to stop, think and re-evaluate what is most important to me. It helps me understand what I truly stand for, what means a lot to me and what I can do to be my best."
"Thank you so very much, for another beautiful evening. You leave us with feelings of inner peace, wisdom and awareness that lingers in my thoughts and warms my heart."
---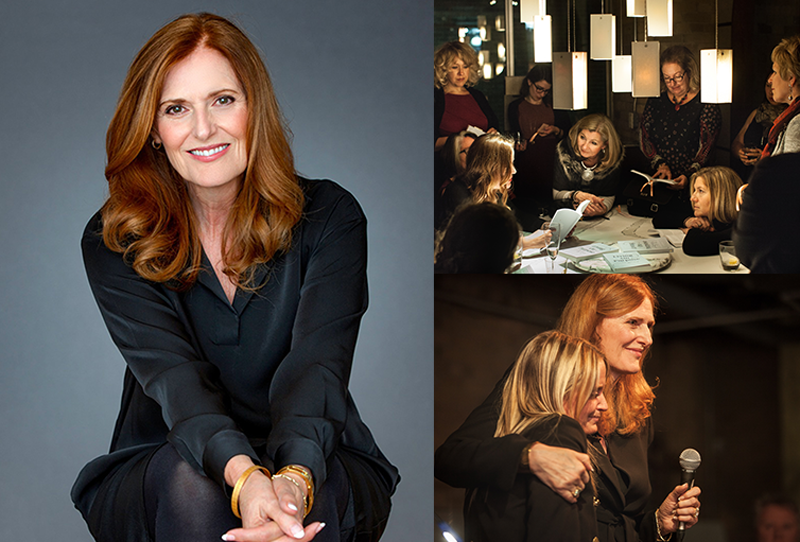 MORE BACKGROUND ON
NANCY TRITES BOTKIN
A professional woman who loves being a woman, I empower women to speak up, stand up, and connect with their greatness. Think8 Women (www.think8women.com) was created to enable women to find their purpose and use their gifts to change their world and the world. "Nancy Trites Botkin is an amazing facilitator, truly inspirational and brilliant, with the ability to touch people's lives and change the way they think." A.M. As Co-Founder and President of the Think8 Global Institute, transforming companies and organizations around the globe, it became clear that women wrestle with issues not always seen or addressed. Women take courses, we hire coaches, but rarely are our specific skill sets or the hurdles we jump through as women, acknowledged. How we create and move in the world is different from men, yet we are often measured against the 'norm' and found 'lacking'. It is easy to get trapped in insecurities or fears that fuel over-commitment and over-delivery, then we wonder why we burn out.
Drawing on my background as an award-winning writer-producer-director in film and television, I designed the CREATING YOUR LIFE Series to deal with the real issues we face as women, and how they interconnect to the whole of our lives. Each topic is taken apart in light of current trends, common "think" and historical perspectives, peeling back layers in deeper questions, to share invaluable insights, experience and wisdom. SIGN ME UP