Over the next twelve months, my new online CREATING YOUR LIFE Series addresses 8 specific areas for living congruently as a woman. Each session focuses on developing your core by building inner strength.
Over four consecutive weeks, each live two-hour session will take you on a deep dive to explore what it means to be authentic and powerful as a woman-- in your personal lives as well as in your career or job.
The four sessions in the first of the series called KNOWING MYSELF set the stage for this deeper work. My goal is to help you be fully yourself, knowing your worth and standing firm as you create how you want to live. This whole series is all about you becoming your best self.
Join with amazing women from all over the world in this dynamic and impactful journey.
I look forward to working with you for Creating Your Life.
Warmly,
Nancy
Series ONE: KNOWING MYSELF (4 x 2 hour sessions)
1. AUTHENTICALLY YOU
WEDNESDAY MAY 27th
1-3pm or 7-9pm
The need for congruent alignment has never been more important now that the lines between work and home are blurred. Authenticity is all about being you all the time. This session unearths the vulnerability and fears around being ourselves -- and the rewards. It is possible -- and a huge relief -- to realize that you are worthy just as you are, which enables you to let go of the fears that say you are not enough.
2. FINDING YOUR VOICE
WEDNESDAY JUNE 3rd
1-3pm or 7-9pm
What does it mean to 'find our voice'? This session looks at what voice is and how we need to use our voices in the most effective way. How do we stand up for what we believe and speak our truth? What stops us from speaking in our voice to say what we need to say?
3. LIVING IN YOUR POWER
WEDNESDAY JUNE 10th
1-3pm or 7-9pm
Sometimes it feels like we are waiting for permission to own our power as a woman. What does power look on a woman? How is it different from men's power? Many of us have only seen the 'power over' model so we back away from it. Few women understand how their power as a woman is different and how to use it. Learn how to develop your power, and how to own it.
4. STANDING UP FOR YOURSELF
WEDNESDAY JUNE 17TH
1-3pm or 7-9pm
Why is it so often that the last person we take care of is ourselves? Why is it so difficult to tell others what we need or want, and why are we so afraid to draw boundaries? The real question is this: what is the cost we pay for not standing up for ourselves? This session is all about being able to hold our position in space to navigate 'rough waters' when we would usually keep quiet.
---
Subscribe to CREATING YOUR LIFE
Series ONE: KNOWING MYSELF
You can purchase the full 4 x 2hr package or single sessions.
---
AUTHENTICALLY YOU
WEDNESDAY, MAY 27th
1-3pm OR 7-9pm
---
FINDING YOUR VOICE
WEDNESDAY, JUNE 3rd
1-3pm OR 7-9pm
---
LIVING IN YOUR POWER
WEDNESDAY, JUNE 10th
1-3pm OR 7-9pm
---
STANDING UP FOR YOURSELF
WEDNESDAY, JUNE 17th
1-3pm OR 7-9pm
---
COST:
---
Series One package
$140 +tax*
---
Single Session
$40 +tax*
---
*If you are Canadian, tax depends on your province. Outside Canada - no tax.
MORE ON THE SERIES
This series offers a unique opportunity to examine your own life in deeper ways in each two-hour session. Being part of a community of 'thinking women' who are wide-awake allows you to be profoundly seen and heard in ways that will surprise you. And just as their vulnerability and wisdom supports and encourages you to create your life with new vitality and energy, so your experiences and wisdom will open them to new perspectives. "All the topics are extremely relevant. The collaboration and sharing among women is incredible, and it makes you feel empowered when peers are looking for the same thing that you are, how to become better every day." N.F.
It's ideal if you can sign up for each whole four-week series, as each session builds on previous ones. But you are more than welcome to join any session at any time. "I attended Nancy's session on how we define success. The discussion increased my self-awareness and encouraged me to think. This was very important to me and surprised me that I really didn't know what my needs or wants were, and the difference between the two. This was life-changing for both work and me personally. Her method is cutting edge and accomplishes many results in such a short time. No other recent training or development comes close." D.F.
And yes, absolutely, invite a friend. It is a perfect way to connect with women all over the world to continue meaningful conversations in mutual encouragement and support.
Each week you will receive six beautifully designed pages which are your CREATING YOUR LIFE workbook. These are the questions for each week's session, along with quotes and postcards. You can download the pages to create your own binder or type directly into these pages on your computer.
Once you have completed all four weeks of any of the eight series, you will receive a personalized certificate with your name on it.
Drop a line to Susan Collins at info@think8women.com and she can answer any and all questions to will make sure you have everything you need to sign up.
THE FULL SCOOP
As you can tell, we are so excited about the whole of this robust series that we decided to share our full year lineup.

Series One: KNOWING MYSELF

Authentically You
Finding Your voice
Living in Your Power
Standing Up For Yourself

Series Two: OWNING MY LIFE

Telling Stories
Time for Our Life
Letting Go
Listening

Series Three: BELIEVING MYSELF

Confidence Code
Negative People
Negotiation
Turning No to Yes

Series Four: TRUSTING MYSELF

Fear of Failing
Criticism
Self-Esteem
Happiness

Series Five: SUCCESS ON MY TERMS

Perfection
Money and Women
Getting Rid of Guilt
Success on My Terms

Series Six: CHOOSING MY LIFE

Getting Unstuck
Intuition
Gratitude
Freedom of Choice

Series Seven: MAKING MEANING OF MY LIFE

Courage
Love
Creativity
Meaning

Series Eight: EXPANDING MY LIFE

Expansion in a Time of Contraction
Looking for Legacy
Playing to Your Strengths
Reaching Beyond
---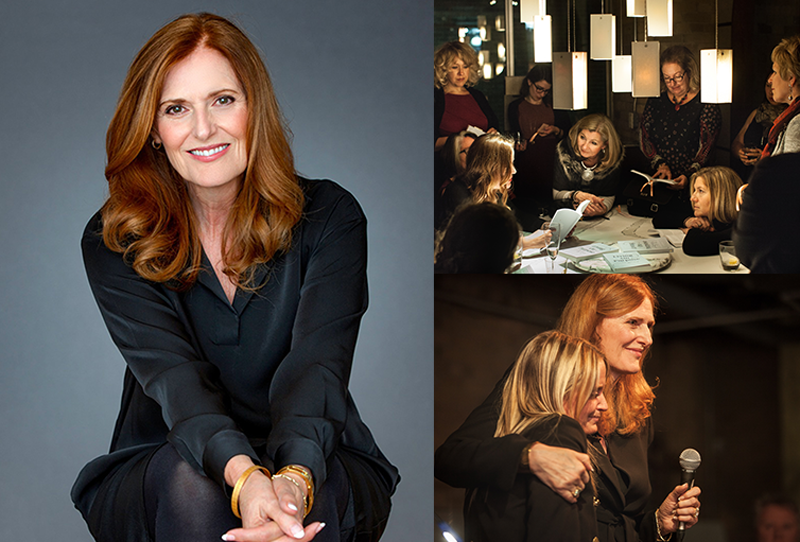 MORE BACKGROUND ON
NANCY TRITES BOTKIN
A professional woman who loves being a woman, I empower women to speak up, stand up, and connect with their greatness. Think8 Women (www.think8women.com) was created to enable women to find their purpose and use their gifts to change their world and the world. "Nancy Trites Botkin is an amazing facilitator, truly inspirational and brilliant, with the ability to touch people's lives and change the way they think." A.M. As Co-Founder and President of the Think8 Global Institute, transforming companies and organizations around the globe, it became clear that women wrestle with issues not always seen or addressed. Women take courses, we hire coaches, but rarely are our specific skill sets or the hurdles we jump through as women, acknowledged. How we create and move in the world is different from men, yet we are often measured against the 'norm' and found 'lacking'. It is easy to get trapped in insecurities or fears that fuel over-commitment and over-delivery, then we wonder why we burn out.
Drawing on my background as an award-winning writer-producer-director in film and television, I designed the CREATING YOUR LIFE Series to deal with the real issues we face as women, and how they interconnect to the whole of our lives. Each topic is taken apart in light of current trends, common "think" and historical perspectives, peeling back layers in deeper questions, to share invaluable insights, experience and wisdom. SIGN ME UP