If you know me at all, you know that knowing the PURPOSE behind everything is essential. My driving purpose for creating this new series of online Roundtables (not surprisingly called CREATING YOUR LIFE) is for each woman to be able to stand in the power and beauty of her own life.

The gift of doing deeper work like this with a group of 'like-minded women' is that as each woman considers the subject, hears other women's wisdom and experiences—and then shares her own, it makes it not only possible but easy to let go of beliefs and fears that no longer serve her. It affirms and strengthens our authentic voice.

Each session explores a single aspect of our life, focusing on building inner strength. The first four-week sessions explored KNOWING MYSELF. The second four-week sessions were all about OWNING MY LIFE. Now that summer is over and most of us are still working harder than ever from home, our next four-week sessions are all about BELIEVING MYSELF.

My work, whether in person or online, presents best conventional wisdom on each subject, our many options and always some new ways of thinking. A veritable smorgasbord of ideas, I lay out the 'main dishes' but every woman brings her tasty best as well. Take what you need and want but you will leave happy and filled—thinking in ways that are new and profoundly affirmed.

Since going online in March, I love the beautiful deep bonds of support and affirmation that just keep growing. These two hours a week are a safe place to share what we think, feel and know-- without judgment. It's this honest sharing that nudges us into action.

I invite you to join amazing like-minded women from all over the world for dynamic and impactful sessions in our next four-week series of BELIEVING MYSELF. I can promise it will enrich your life in ways you cannot imagine.

I look forward to working with you.

Warmly,
Nancy




Series THREE: BELIEVING MYSELF (4 x 2 hour sessions)
1. CONFIDENCE CODE
WEDNESDAY SEP 9th
1-3pm or 7-9pm ET
Is it true? Do we actually lack confidence as women or is that a reflection that has been given to us? This is a powerful session on looking at how we as women live in our own self confidence.
2. NEGATIVE PEOPLE
WEDNESDAY SEP 16th
1-3pm or 7-9pm ET
Interesting that during the lock-down of COVID, many women 'pruned' those in their lives who are negative. This session unlocks steps for dealing with those anyone in your life who sucks you dry.
3. NEGOTIATION
WEDNESDAY SEP 23rd
1-3pm or 7-9pm ET
As women this is a skill set we tend to avoid, but did you know that we are actually great negotiators for others. But when it comes to ourselves, we freeze. This is all about the how and why of negotiation for the whole of our lives.
4. TURNING NO TO YES
WEDNESDAY SEP 30th
1-3pm or 7-9pm ET
When women hear the word 'NO' it stops us cold. We believe it. but 'no' is only another's point of view. This session takes an inside view of how we can view stops in our life in a different way to learn to be on our own flow of all things are possible.
---
Subscribe to CREATING YOUR LIFE
Series THREE: BELIEVING MYSELF
You can purchase the full 4 x 2hr package or single sessions.
---
CONFIDENCE CODE
WEDNESDAY, SEP 9th
1-3pm OR 7-9pm
---
NEGATIVE PEOPLE
WEDNESDAY, SEP 16th
1-3pm OR 7-9pm
---
NEGOTIATION
WEDNESDAY, SEP 23rd
1-3pm OR 7-9pm
---
TURNING NO TO YES
WEDNESDAY, SEP 30th
1-3pm OR 7-9pm
---
COST:
---
Series Three package
$140 +tax*
---
Single Session
$40 +tax*
---
*If you are Canadian, tax depends on your province. Outside Canada - no tax.
MORE ON THE SERIES
It's Ideal if you can sign up for each whole series of four weeks but you are more than welcome to join ANY session at ANY time.
Invite a friend. It's a perfect way to connect with your friends and women from all over the world to continue meaningful conversations in mutual agreement and support.
Each week you will receive beautifully designed pages for your CREATING MY LIFE workbook. These are the questions for each week 's session along with many of the quotes I use and postcards. You can either download these pages to create your own binder or type directly onto these pages on your computer.
Once you have completed all four weeks you will receive a personalized certificate with your name on it.
These series offer a unique opportunity to examine your own life in deeper ways. Being part of the community of thinking women who are 'heart awake' allows you to be profoundly seen and heard in ways that will surprise you. And just as their vulnerability and wisdom supports and encourages you to create your life with new vitality and energy, so your experiences and wisdom will open them to new perspectives.
Feel free to drop our own Susan Collins a line at
info@think8women.com
and she will answer any and all questions to make sure you have everything you need to sign up .
WOMEN'S REFLECTIONS ON THE ROUNDTABLES:
"I was thrilled to be able to attend some of your "Round Table" sessions. I have loved every minute. They have fulfilled beyond measure anything I could have possibly imagined. All of these women are bright stars. And, yes, that includes me even though it feels very weird to say that. But it is becoming easier through working with our group and the sessions prior to this group starting. I look at every woman in our group and think "they have no idea how courageous they really are."

Thank you so much for this very special encampment on this journey of self-discovery and this adventure we call Life."

Lisa.W.
"It is the Greatest gift to be on the roundtable calls. I am forever grateful. Thank you for taking the time to put these together, to hold a powerful magical space for us all."

Frederique
"Your sessions reflect the work you bring to ask the questions and move the discussion along to identifying actions and words we can all identify and relate to our own lives. It is my privilege to be included in this wonderful group of women."

Gill E.
"I truly have enjoyed the roundtables that I have attended. There were numerous benefits but a couple that are important to me are: 1) the opportunity to not only connect but get to know some unique and intelligent women that I would otherwise not have met, 2) being able to think more deeply about who I am, my authenticity, and the power that is inside of me to enable me to keep moving forward no matter what the challenge."

Kathy.K.
"I woke up this morning even more grateful for the space you provide in your workshops. Each week, I have been able to contemplate deeper aspects of myself. More importantly, however, I have been to apply this understanding at work and with friends and family, and myself."

Joan.
THE FULL SCOOP
As you can tell, we are so excited about the whole of this robust series that we decided to share our full year lineup.

Series One: KNOWING MYSELF

Authentically You
Finding Your voice
Living in Your Power
Standing Up For Yourself

Series Three: OWNING MY LIFE

Telling Stories
Time for Our Life
Letting Go
Listening

Series Three: BELIEVING MYSELF

Confidence Code
Negative People
Negotiation
Turning No to Yes

Series Four: TRUSTING MYSELF

Fear of Failing
Criticism
Self-Esteem
Happiness

Series Five: SUCCESS ON MY TERMS

Perfection
Money and Women
Getting Rid of Guilt
Success on My Terms

Series Six: CHOOSING MY LIFE

Getting Unstuck
Intuition
Gratitude
Freedom of Choice

Series Seven: MAKING MEANING OF MY LIFE

Courage
Love
Creativity
Meaning

Series Eight: EXPANDING MY LIFE

Expansion in a Time of Contraction
Looking for Legacy
Playing to Your Strengths
Reaching Beyond
---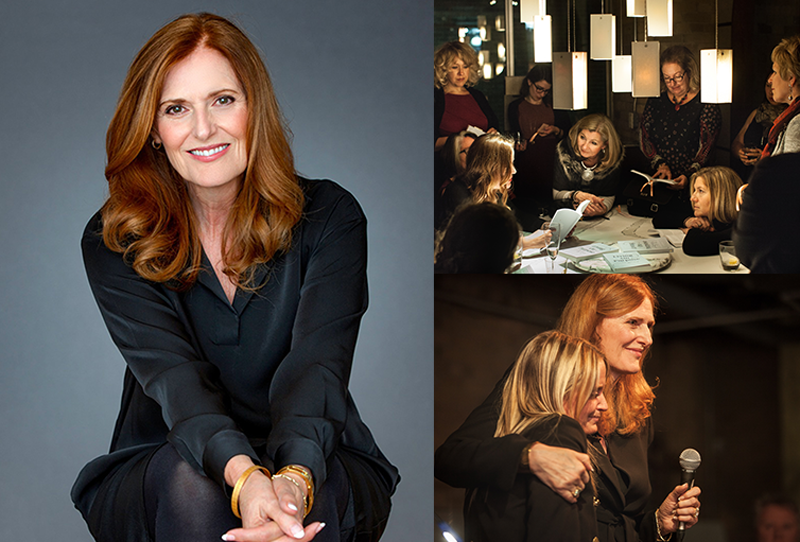 MORE BACKGROUND ON
NANCY TRITES BOTKIN
A professional woman who loves being a woman, I empower women to speak up, stand up, and connect with their greatness. Think8 Women (www.think8women.com) was created to enable women to find their purpose and use their gifts to change their world and the world. "Nancy Trites Botkin is an amazing facilitator, truly inspirational and brilliant, with the ability to touch people's lives and change the way they think." A.M. As Co-Founder and President of the Think8 Global Institute, transforming companies and organizations around the globe, it became clear that women wrestle with issues not always seen or addressed. Women take courses, we hire coaches, but rarely are our specific skill sets or the hurdles we jump through as women, acknowledged. How we create and move in the world is different from men, yet we are often measured against the 'norm' and found 'lacking'. It is easy to get trapped in insecurities or fears that fuel over-commitment and over-delivery, then we wonder why we burn out.
Drawing on my background as an award-winning writer-producer-director in film and television, I designed the CREATING YOUR LIFE Series to deal with the real issues we face as women, and how they interconnect to the whole of our lives. Each topic is taken apart in light of current trends, common "think" and historical perspectives, peeling back layers in deeper questions, to share invaluable insights, experience and wisdom. SIGN ME UP